Admittedly this is a bit off-topic, but I am still a little bit of a geek (forgive me).
In the not-too-distant past, Nokia announced their N900 "mobile computer" and it was an immediately enticing device: a large & very high resolution touch screen, a physical slide-out keyboard, 3G frequencies that will work with my carrier (T-Mobile), and oh, it runs a relatively-unmolested Linux too.
Frustration with my blackberry peaked a week or so ago and I ordered an N900 from Nokia, admittedly with a slight amount of trepidation – unsubsidized phones are expensive and this is their flagship! It arrived the next business day and I've been getting settled into it since.
In a nutshell, it's almost exactly as I expected: gorgeous hardware, software that's still a little rough around the edges but lots of potential for improvement. Interested in details, including some talk of the phone's camera? Read on.
Otherwise, my next post will likely be waxing poetic about the utterly enchanting Canon 24mm f/1.4L II lens!
The screen is very high resolution for a mobile device (800×480), sharp, and beautiful. It uses a different touch screen technology than the iPhone does so you don't get multitouch but it's still accurate and responsive.
The keyboard has taken a bit more getting used to than expected. I'm guessing it's because it's relatively wide and so it's taking a little longer to learn exactly how far my thumbs need to move to hit (for example) A instead of the Alt symbol. The sliding mechanism though is solid and locks into place nicely.
I don't have any complaints whatsoever about the guts of the phone – it's fast, and it can handle as many simultaneous apps as I can throw at it at once. I also do get 3G data on the phone; one speed test while out in the boonies at work resulted in about 1Mbps down and 350 kbps up.
Applications are a little rough around the edges – e.g. there's no way you can display both directions and a map simultaneously in the Maps application, the Calendar is very rudimentary, and the system has crashed a couple of times. However there's already a decent collection of applications available from the Extras repository and they seem pretty responsive in their bugzilla. There's also a significant software update promised soon.
The hardware, connectivity, and the fact that it is an open Linux system in my pocket makes it worthwhile though.
Belatedly, I realize I haven't said anything about the browser and that's because there's nothing /to/ say – it works exactly like the browser on your desktop does, and so far has rendered everything flawlessly and as quickly as the connection can feed it.
Back on topic though, the camera on this thing leaves a lot to be desired! I realize I'm spoiled by always carrying my 5D Mark II, but this thing is horrible. They've slapped the Carl Zeiss Tessar name on its 5.2mm f/2.8 lens. Here's a shot taken with it, click on the image for the full-size copy. Lots of fringing along the skyline, not to mention any and all detail being smudged out of existence.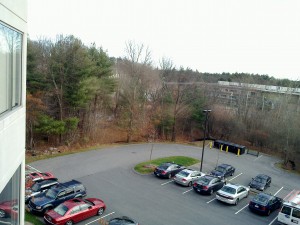 Ah well. I certainly didn't buy it for the camera!
Overall I like the phone. It's not an organizer powerhouse but the other software more than makes up for it.